DEC4240 / DEC4280

 
OPNsense® Rack Security Appliance

Enterprise & 

Datacenter Edition

SIMPLY THE BEST.
 Rack mountable appliance, the full package at an affordable price.

Exceptional performance f
or datacenters & enterprises.
UPTO 150Gbps Connectivity
(4x 25Gbps, 4x 10Gbps, 4x 2.5Gbps)
DESIGNED FROM THE GROUND UP, FOR DEMANDING NETWORKS

AIRFLOW SIMULATION

DESIGNED WITH STATE-OF-THE-ART SIMULATION SOFTWARE, TO DETERMINE OPTIMUM AIRFLOW.
LOW NOISE COOLING SOLUTION

THE DEC4200 SERIES COMES WITH A THERMAL DESIGN THAT UTILISES LOW NOISE FANS, CUSTOM HEATSINKS AND SPECIALLY ENGINEERED AIR DUCTS.
MINIMISING POWER CONSUMPTION

THE OPTIMISED COOLING NOT ONLY MINIMISES NOISE, IT ALSO LOWERS THE OVERAL POWERCONSUMPTION.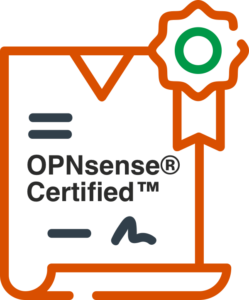 OPNsense® Certified™ appliances directly from the developers.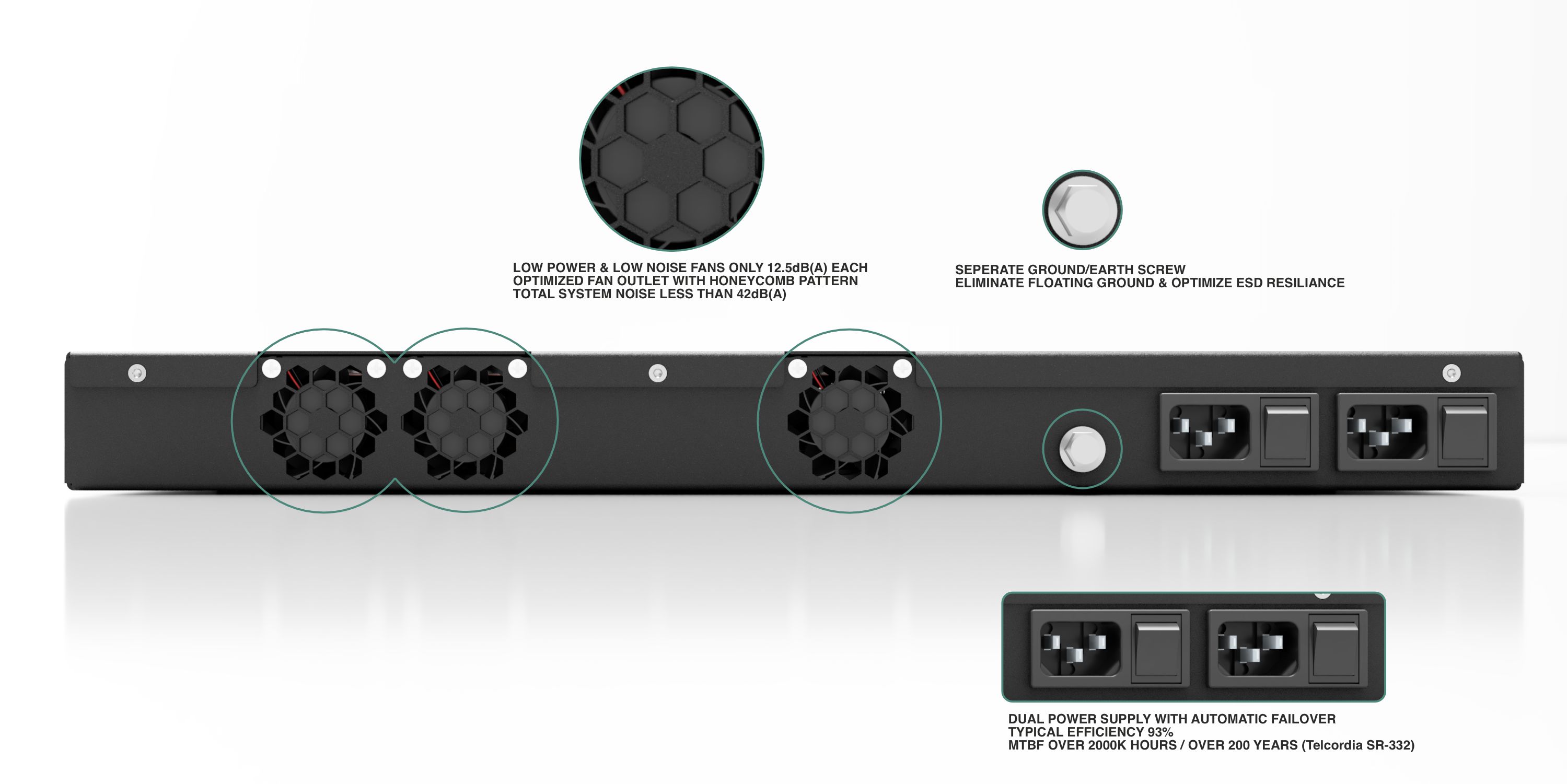 BEAUTY IS IN THE BEHOLDER'S EYE, we designed not just another firewall but a security appliance that pleases our eyes.
"The pursuit of truth and beauty is a sphere of activity in which we are permitted to remain children all our lives." - Albert Einstein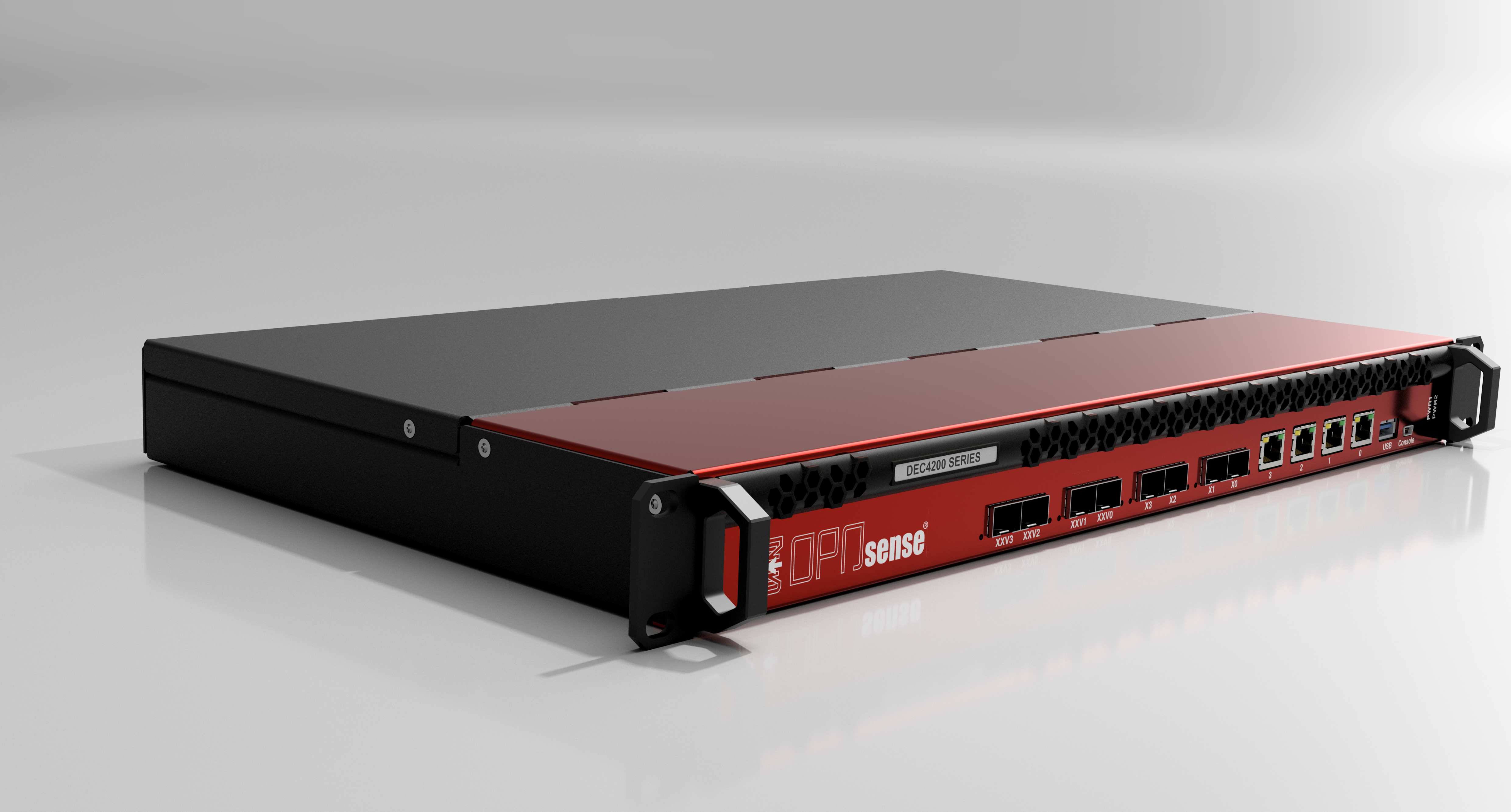 you may never need to see it..but..
THE INSIDE IS JUST AS NICE,

from

 the Netboard A30 Embedded Mainboard at the heart of the security platform

to

the well designed heatsinks and air ducts.
Up to 12 ports, including four independent 2.5 Gbps Ethernet, four 10Gbps SFP+ ports and four 25Gbps SFP28 ports.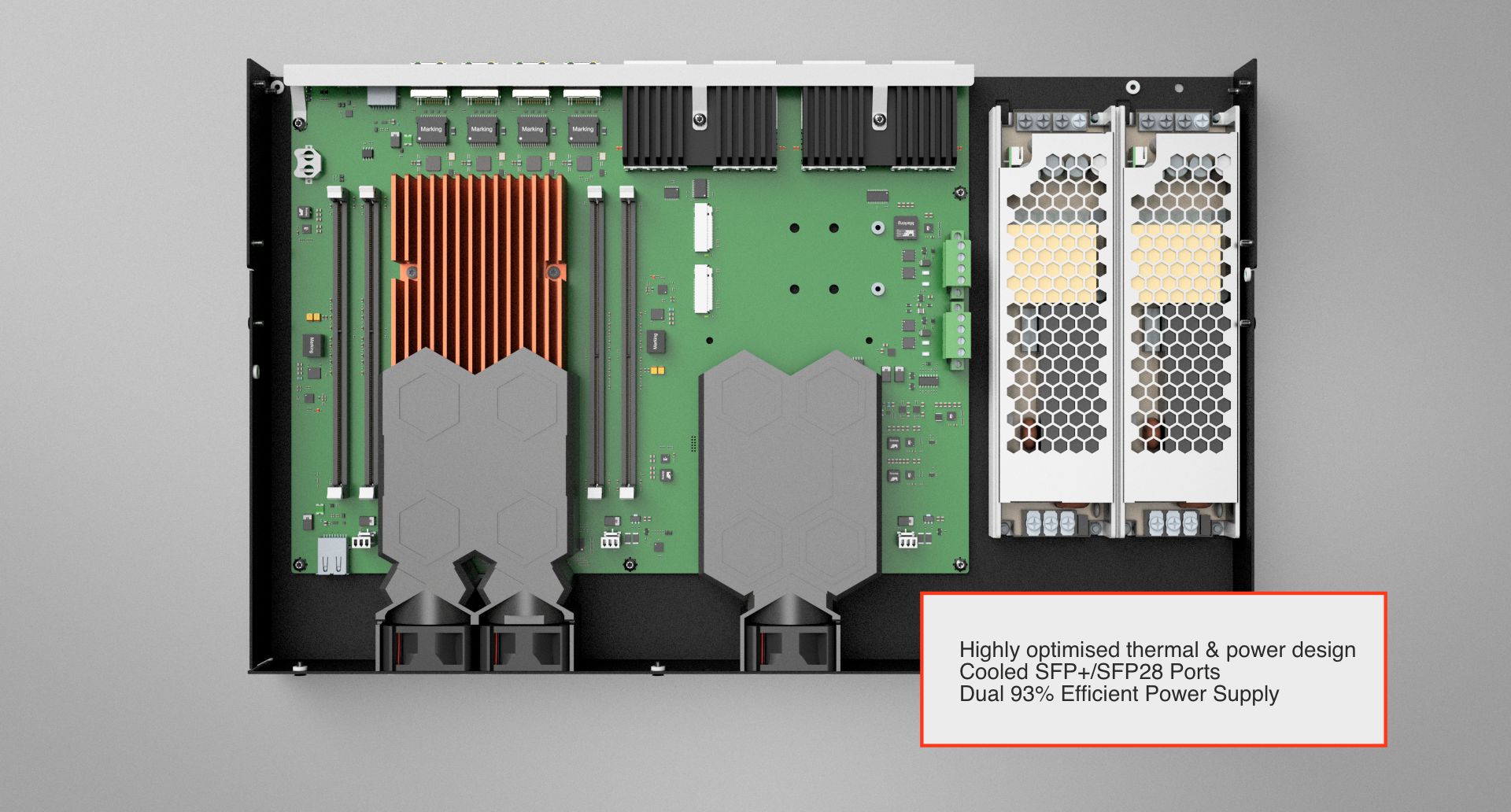 19" 1U RACKMOUNTABLE
With a depth of under 28cm (~11inch) it just fits in any cabinet.

Bundled with a free year OPNsense® Business Edition
A 5-STAR EXPERIENCE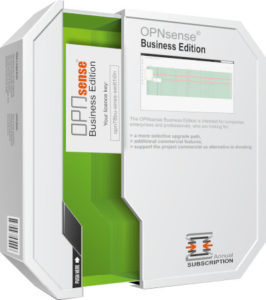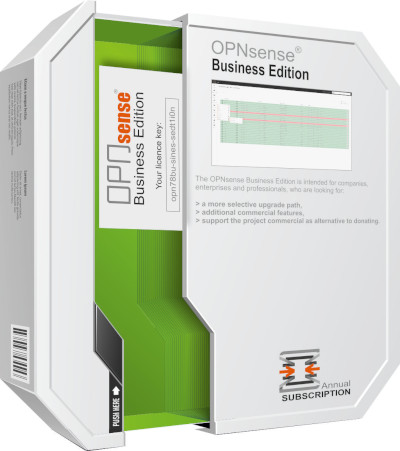 ★

Commercial firmware repository


★ 

Official OPNsense Open Virtualisation Image


★

Integrated GeoIP database


★ 

Free E-Book ( English & German )
★

Free professional plugins:
* Web Application Firewall
* Proxy Access
* Extended Blocklist
* OPNcentral™
OPNcentral™

 
Central Management, the OPNsense® way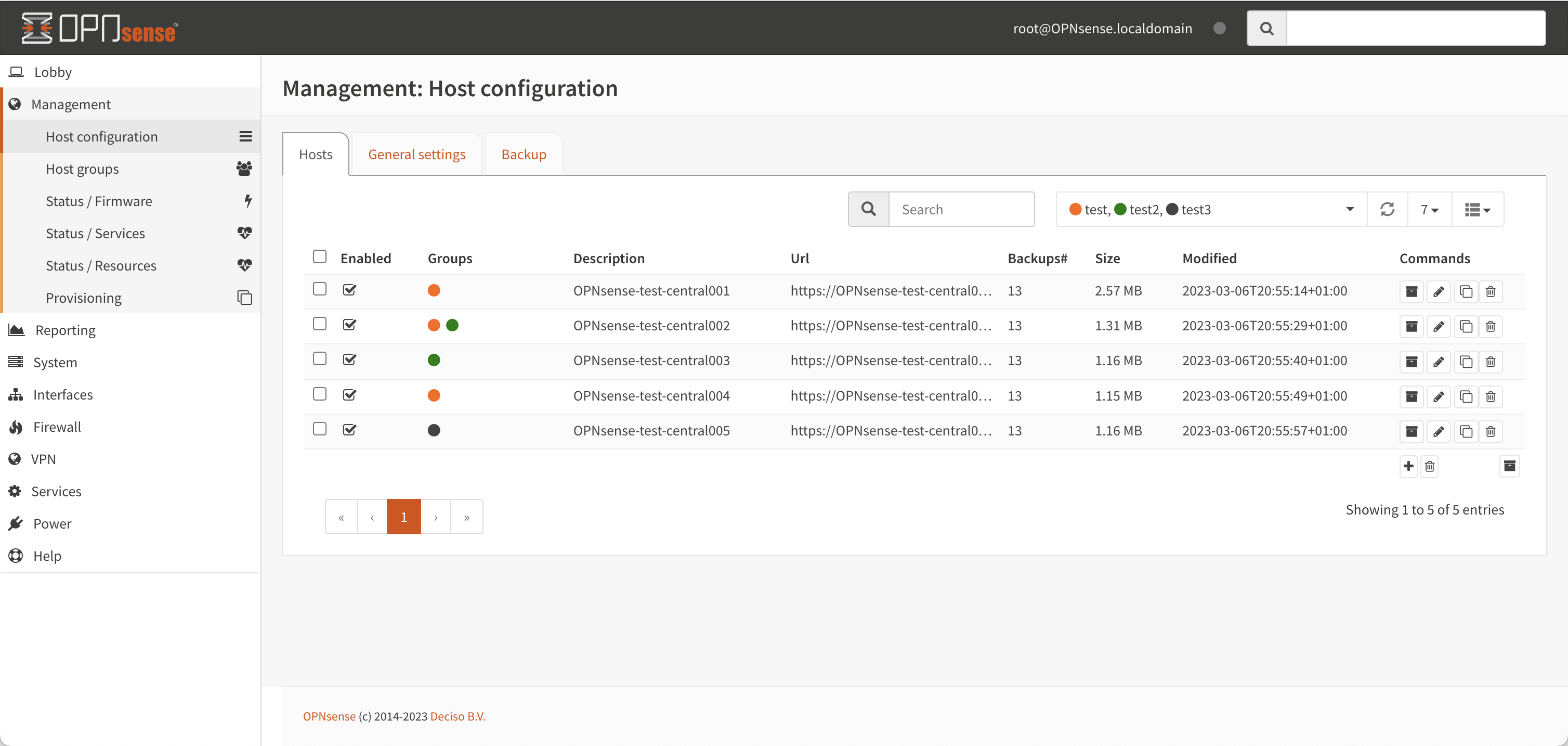 INCLUDES
* Provisioning
* Multi tenancy using host groups
* Centralised Backups
* Centralised Firmware Upgrades
* Monitoring: Machine state, Firmware version and Resources

Full specifications & model comparison
Models
DEC4240
DEC4280

 

 

Software
Preinstalled software
OPNsense®

 

OPNsense®

 

License
Open Source + 1 year free Business
Edition
Open Source + 1 year free Business
Edition
Hardware Specifications
SFP28 Ports [25Gbps]
0
4
SFP+ Ports [10Gbps]
4
4
GbE RJ45 Ports [ 100/1000/2500Mbps ]
4
4
USB 3.0 Ports
1
1
Console Port
1
1
Internal Storage
1TB M.2. Solid State Flash
1TB M.2. Solid State Flash
Memory
64GB DDR4
64GB DDR4
CPU Cores
8 (max frequency 3.1Ghz)
16 (max frequency 3.1Ghz)
Virtual Interfaces (802.1q VLANS)1
4093
4093
System Performance
Firewall Throughput
21.1Gbps
60Gpbs
Firewall Packets Per Second
1760Kpps
5000Kpps
Maximum Firewall Port to Port Throughput
9Gbps
21Gpbs
Firewall Port to Port Packets Per Second
122000
1450Kpps
Concurrent Sessions
63000000
63000000
New Connections Per Second
50000
50000
Firewall Latency (average)
100us
100us
Firewall Policies (Recommended Maximum)1
10000
10000
IPsec VPN Throughput (AES256GCM16)
2.5Gbps
2.5Gbps
IPsec VPN Packet Per Second (AES256GCM16)
220Kpps
220Kpps
Threat Protection Throughput Packet Per Second
291Kpps
625Kpps
Threat Protection Throughput
~3.5Gpbs
~7.5Gbps
High Availability with State Synchronisation
Requires Two
Requires Two
Dimensions
Height x Width x Depth (mm)
43.8 (1U) x 482.6 (19") x 302 (274 excl. mount/handle)
43.8 (1U) x 482.6 (19") x 274 (274 excl. mount/handle)
Height x Width x Length (inches)
1.73 x 19 x 11.9 (10.8 excl. mount/handle)
1.73 x 19 x 11.9 (10.8 excl. mount/handle)
Form Factor
19" Rackmountable
19" Rackmountable
Weight (appliance only)
4.70Kg

 

4.85 Kg

 

Environment
Power Requirements
100-240VAC, 50-60Hz
100-240VAC, 50-60Hz
Maximum Current (Single PSU)
2.6A
2.6A
Power Consumption (Typical - Single PSU)
55W

 

80W
Heat Dissipation
187.6 BTU/hr
273 BTU/hr
Operating Temperature
0 to +45°C
0 to +45°C
Storage Temperature
-20 to +70°C
-20 to +70°C
Humidity
10-90% non-condensing
10-90% non-condensing
Regulatory Compliance
FCC part 15 Class A, CE, Rohs
FCC part 15 Class A, CE, Rohs
1 The user interface is designed for normal business usage, large rulesets, high number of users or interface assignments may be less practical.
All measurements are based upon TCP traffic unless stated otherwise. Total Firewall Throughput is calculated based on maximum PPS and standard 1500 byte packets. Maximum PPS is measured using 500 byte packets. IPS performance is measured using ET Open and standard 1500 byte package size (using Suricata version 6.0.12 / Netmap version 14). SSL VPN is measured using AES256GCM16+SHA512. Concurrent sessions are based upon memory available, where one state consumes 1KB of memory and 1GB of memory is reserved for system tasks. Latency is measured as an average over 60 seconds.
---
Supported SFP(+) Modules
When using SFP+Modules, do not mix 2.5/5Gbps and 10Gbps link-speed as the hardware does not support mixing these due to different frequencies.
While most standard LC-LC OM3 SFP+ modules and SFP+ Direct Attached Cables are likely to function we advise to select one of of the known compliant modules from the following list:
SFP+ (Up to 10G)
--------------------------------------------------------------------------------------
TESTED & WORKING:
[FIBER - SR] UP-TR-SR-CI 10G SFP+ 850nm 300m DOM (Uptimed)
[DAC] ARUBA 10G SFP+ 1m DAC (Aruba)
[DAC] CISCO SFP-H10GB-CU1M 1m Direct Attach (Cisco)
[DAC] NETGEAR AXC761 10G SFP+ PASSIVE COPPER CABLE 1M (MOST RECENT VERSION)
[FIBER - LR] SFP-10GLR-31 1/10G SFP+ 1310nm 10km (FS)
[FIBER - SR] SFP-10GSR-85 10G SFP+ 850nm 300m (FS)
[DAC] STARTECH DACSFP10G1M (Startech)
[DAC] SFPP-PC02 10G SFP+ DAC 2M (FS)
[DAC] SFPP-PC005 10G SFP+ DAC 0.5M (FS)
[RJ45] SFP-10G-T 10GBASE-T SFP+ 30m (FS)
[FIBER - SR] IBM FTLX8571D3BCL-IC 850nm
[FIBER - SR] UBIQUITI UF-MM-10G 300m 850nm
[DAC] UBIQUITI 10G 1M DAC
[FIBER-SR] Mellanox MFM1T01A-SR (Mellanox)
SFP (Up to 1G)
--------------------------------------------------------------------------------------
TESTED & WORKING:
[RJ45] SFP-GB-GE-T 10/100/1000BASE-T SFP 100m TESTED WITH S/N: F1940333300 (FS)
[FIBER - LR BiDi] SFP-GE-BX 1000BASE SFP 1310/1490 10Km (FS)
[FIBER - LR BiDi] SFP-GE-BX 1000BASE SFP 1490/1310 10Km (FS)